Yangzi smart lock - seven major support to join the Yangtze smart lock
October 31 12:15:22, 2020
As a well-known brand in China, Yangtze was involved in the smart lock market in 2016 and quickly gained market share, which was the focus of the industry and consumers. In order to comply with market trends, Yangzi smart locks have emerged from the smart home in Yangzi, and have gradually grown. Then, we will introduce the following seven support for joining the Yangtze smart lock.
Joined Yangtze's smart lock seven support
1. Opening instructions

The headquarters combines the store and the specific conditions of the market, designing a fitting-out program, and sending instructors to visit and instruct at the time of opening to know that the store is operating normally: and provide long-term tracking services to provide you with solutions to all difficult problems. All parts are free and fast for life.

2, brand unification

Yangzi headquarters provides all registered dealers with free registered trademarks and in-store decoration design drawings, storefront doors, VI image design, enjoy a unified operating model, and a uniform corporate culture.

3, operating support

Yangzi headquarters set up a marketing team to produce a full set of marketing management manuals, operation manuals, shop management manuals, sales brochures, etc. Professional trainers provide training and guidance on terminal sales guides for sales skills and standardized service rules.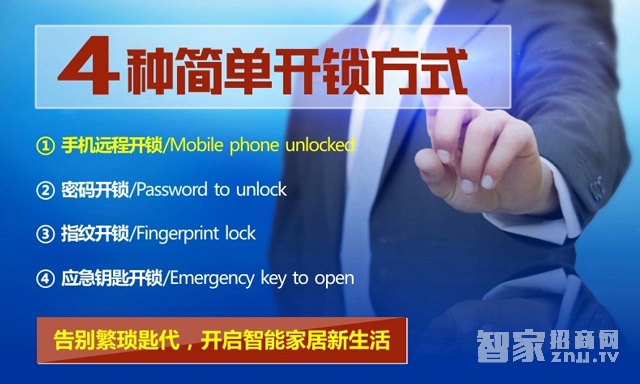 4. Monopoly operation

According to the actual situation, the headquarters adopts a strict regional protection policy. There is only one agent in a region. Agents in the region can develop sub-distributors, monopoly distribution of exclusive products, companies can also take their development and expand their business. In order to eliminate vicious competition within the market and maximize economic benefits.

5, advertising support

The headquarters invests a huge amount of advertising budget each year, and cooperates with various media such as TV stations, professional magazines, fashion magazines, and portal websites to strengthen brand promotion.

6, logistics support

The headquarters has a complete logistics system, the implementation of the network fast selection funds opened in the headquarters mall, to ensure the circulation of the entire system of commodity prices, types, service time, the perfect combination of the best.

7, full replacement

Headquarters, subject to different factors such as geographical, consumption, and experience differences, dealers can sell products that are not right and can be freely exchanged with the headquarters. The slow-moving product manufacturers undertake risk-free business operations.

The above seven major supports are the commitment of Yangzi to the agents and their determination. If you also want to join the Yangtze smart lock, leave a message below the article!
related suggestion:
Article: Blue Shield Smart Lock - What support does the blue shield have?

Recommended: how much smart home join smart home join which is good

WIFI Smart Lock (http://zns.znjj.tv)-Professional smart lock agent joining website, providing the industry's most comprehensive intelligent fingerprint password lock joining agent, smart lock product library, smart door lock price, smart lock brand , smart lock manufacturers Daquan information, welcome to browse online consulting.

Aluminum coil is a kind of metal product for flying shear after rolling and bending.Aluminum alloy, which is synthesized by adding various metal elements, has been widely used in various links in the construction industry. Thickness of commonly used Aluminum Alloy Plate: 0.8-1.2mm for high-grade metal roof (and curtain wall) system (and ≥ 2.5mm for traditional system)

Aluminum Trim Coil,Insulating Aluminum Coil,Rust-Proof Aluminium Coil,Insulating Aluminum Trim Coil

Jinan Xintai Aluminum Industry Co., Ltd , https://www.jinanxintailvye.com