Square Multi-Purpose Retail Display Security Tether Retracting Forces Max 2.5lb/ Cable Length Max 400cm
November 21 09:05:29, 2021
Model NO.: DYH-099

Function: Anti-Theft,Anti-Lost,Display,Security

Application: Counter Display, Fall Protection,Tool Protection

Retractable Life: 50000 Times

Terminals: Loop,3m Sticker,Metal Plate,Stopper,Copper Pillar,

Trademark: DYH

Transport Package: PP Bag with Neutral Carton Box

Specification: 40*40*16MM

Origin: Guangdong Province, China

HS Code: 3926909090

Product descriptionSquare Multi-purpose Retail Display Security Tether Retracting forces MAX 2.5LB/ Cable length MAX 400CMWe are a Chinese factory forretractable tool lanyard, anti-theft pull box, retractable cable reel and various of retractable&security items.  If you need OEM&ODM, welcome to contact with me.

DYH Retractable Tether also known as Holder Pull-box, Return Pull-box, recoilers, security tether and pull-box, it can be broadly used for point of retail product positioning, purchase security, wire harness positioning in electronic equipment, equipment counterbalancing, signage support, and product or parts feeding. For example, it can be used in supermarkets, such as Wal-Mart Electronic products display and some other daily products display.

Detail image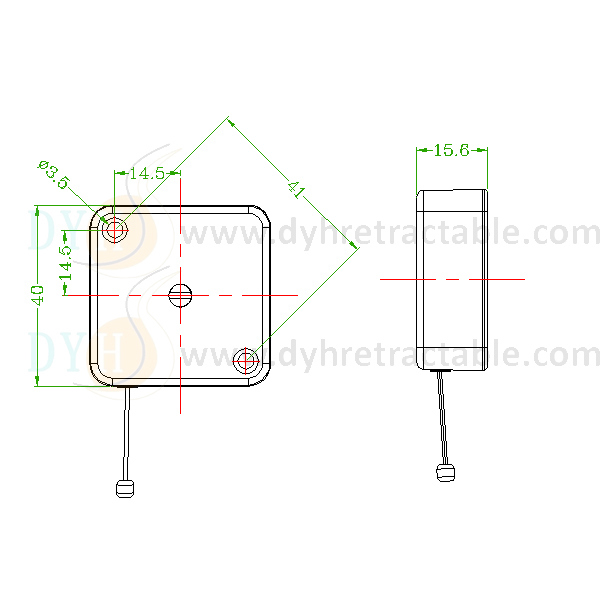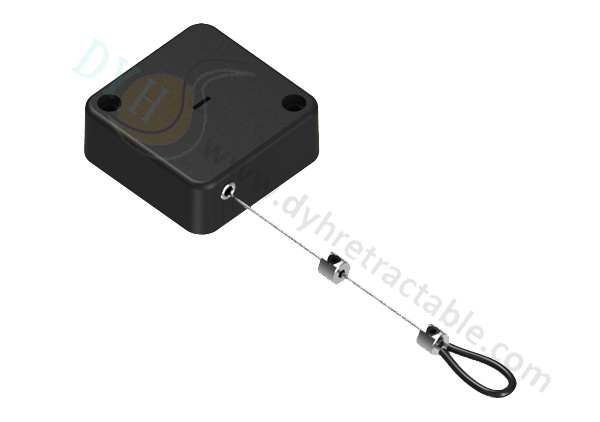 Specification

The auto-locking cable retractor mainly used in super market, retail shops and exhibition to prevent the showing objects, such as jewelry, bracelet, clocks and watches, glasses, digital consumer and other small items being stolen.

 
| | |
| --- | --- |
| Size: | 40*40*16MM |
| Material: | ABS plastic |
| Color: | black or white or customized color |
| Cable diameter: | 0.45 or 0.6 or 0.9 or 1.2MM |
| Cable Length: | 500-1200MM |
| Cable retraction force: | 0.5--2LBS |
| Accessory: | endings or others,3M sticker or L shape ally key |
Option endings for pull box with rope loop: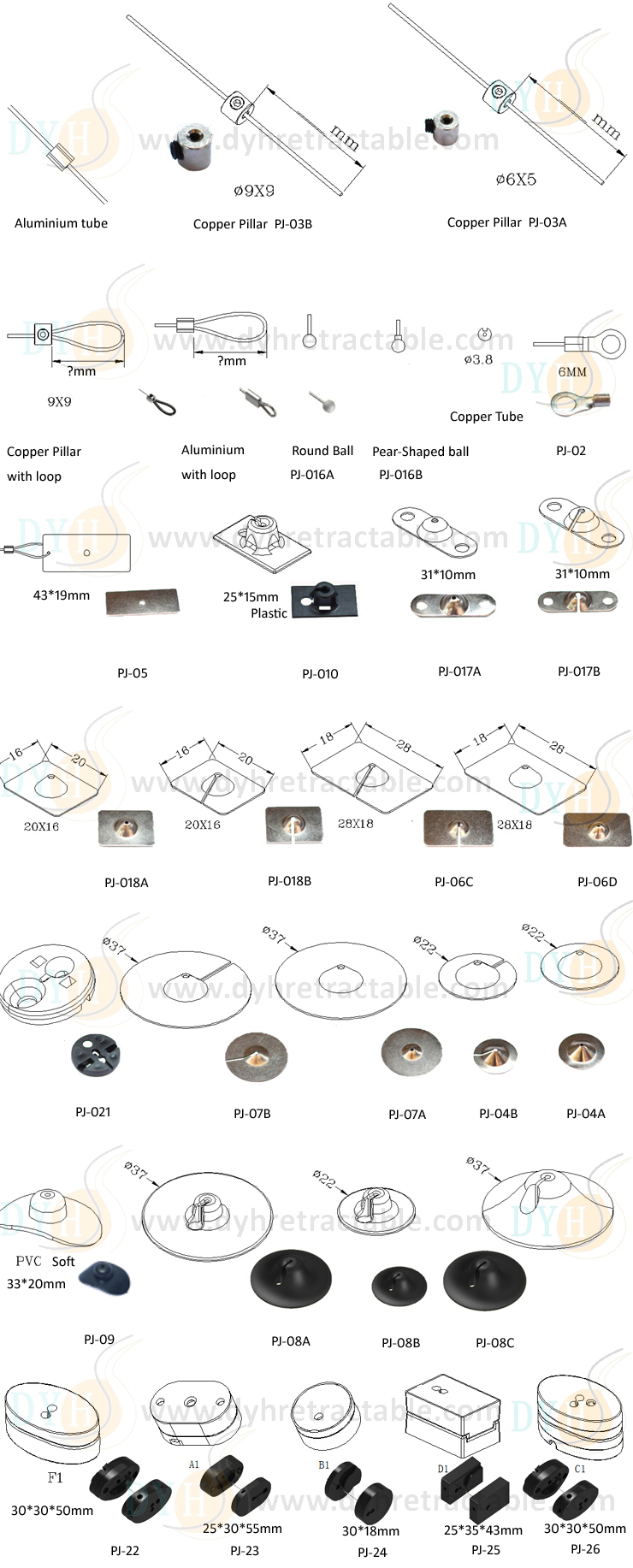 Packing: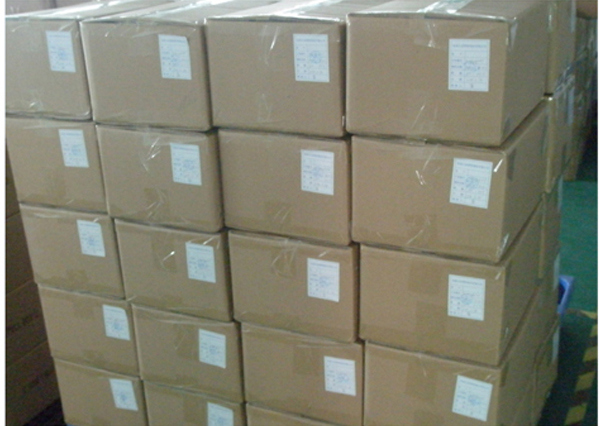 Application:

Mainly used in super market, retail shops and exhibition to prevent the showing objects, such as jewelry, bracelet, clocks and watches, glasses, digital consumer and other small items being stolen.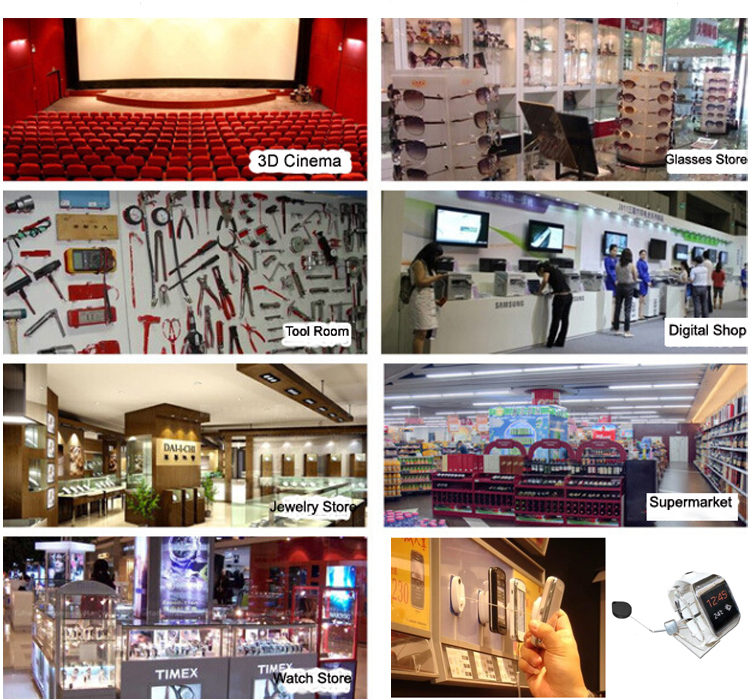 Our company
The superior manufacturer of lanyard,security tether, retractable cable reel,anti-theft pull box in the world.
Xutons Metal&Plastic Co.,Ltd(DYH is the logo) which is comprehensive manufacturer for retractable tool lanyard, anti-theft pull box, retractable cable reel and various of retractable&security items. DYH had more than 15 years OEM&ODM experience, cooperated with many global brands for years and there are agencies in Europe and North America.

For retractable items the key component is inside spring which decides it retractable mechanism and using life. We start from doing spring and provide spring for Chinese fastest train, so quality can be guaranteed.

DYH take advantage of our advance technology in retractable area, not only make retractable items but also provide solution for wide application of retractable items. Please contact with us for customized.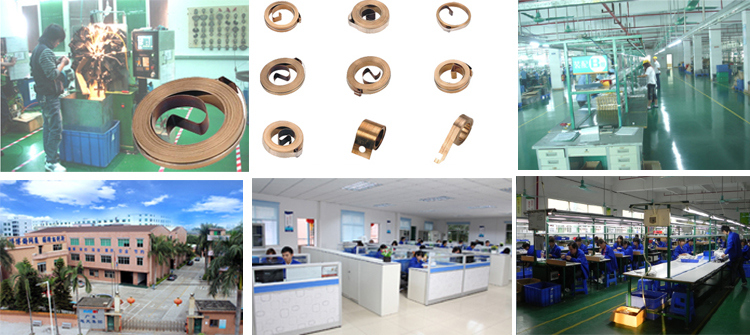 Why us?

1. For this small item spring is the key component,which decides retractable mechanism and life. We start from doing spring and provide spring for Chinese fastest train, so quality can be guaranteed.

2. 3 engineers have more than 20 years experience,control every details during design and detection.

3. All of our QC must have more than 5 years professional experience. 100% full inspection from accessories to final product.

4. True manufacturer for various of retractable&security products in China, DYH have capacity to customize to accomodate clients products needs.

5. 24 hours after-sale service online. All the after-salesman mastered product technology very skillful.

For more information, pls contact with

Julie Yuan

+86-186 7479 3662

 

solar street lights are raised light sources which are controlled by solar powered boards commonly mounted on the lighting structure or coordinated into the shaft itself. The sunlight based boards charge a battery-powered battery, which controls a fluorescent or LED light during the night. There are two types of solar light generally in the lighting market which called all in on solar street light and split solar street light.

Features of solar street lights: A modern solar street light has embedded solar panel, inbuilt lithium-ion batteries, battery management system, night and motion sensors as well as automatic controls. The fully automatic device comes with LEDs, inbuilt and replaceable Lithium-ion battery and passive infrared (PIR) sensors. A typical solar street light is weather-proof and water-resistant, has low insect attraction rate and low glare and has a longer life.

Advantages of solar street light:

Environmental protection: solar energy is green, clean and renewable energy. And the widely using of the solar lights can low down the emmision of the carbon dioside.

Cost less to save money: Since the solar lights can be 100% energy, zero electric bill will be paid after the customers install the solar lights. And customers can also save the cost in wire trench.

More easy installation: Does not like electric lights, there is no need wire trench for solar light installation. Everyone can install the solar lights in a very shorten time.

more safe: Solar lights is DC low voltage compared to dangerous 110-220V AC electric power, it does not harm to human.

Solar Street Lights,Solar Walkway Lights,Solar Powered Security Lights,Solar Street Light With Battery

Jiangmen Biaosheng Solar Energy Technology Co., Ltd. , https://www.bsprosolar.com