Forward gas water heater
December 27 09:04:31, 2019
The striker is a resounding term in the water heater industry. Today, we will enter the forward gas water heater . Forward gas water heaters include strong-row gas water heaters and flue gas water heaters. The two types of gas water heaters have great differences in design. The forward gas water heater has a stylish appearance and high quality features. Many consumers are impressed by it.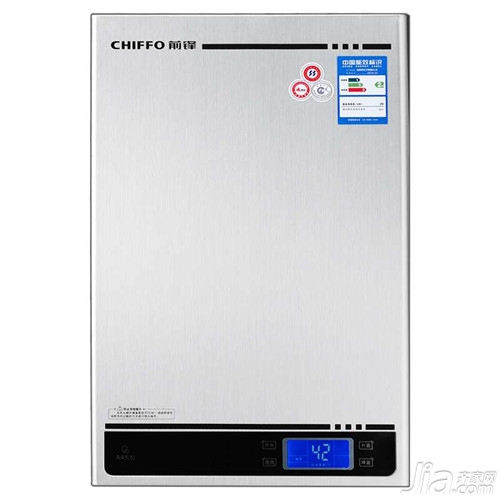 The forward is one of the largest three types of water heaters (fast, volumetric, dual-purpose) consumers in China. The "forward" is the only water heater brand in western China that has won the "China Famous Brand" title. The forward group is mainly involved in: electronic measuring instruments, communication testing equipment, tax-controlled cash registers and tax-controlled installations, computer and software development, digital audio-visual equipment, and home energy intelligent management systems; gas and electric water heaters, cooking appliances, and fume extractors Machines, disinfecting cabinets, cabinets, etc. represented by the overall kitchen and toilet products, commercial fuel gas boilers, HVAC equipment and other products. Dozens of years later, several generations of people inherited the essence and cast the loud name of "Forward".

Forward JSQ30-N1 gas water heater, forward "active" condensing thermostatic water heater, using the latest multi-purpose condensation heat exchanger installation technology (has applied for a patent), effective application of gas water heater extinguish the "high temperature smoke" latent heat, the latent heat After the condensing heat exchanger preheats the cold water, the preheated water passes through the main heat exchanger to stop the secondary heating, so that the heat efficiency is more than 20% higher than the conventional gas water heater. Hot water is quicker, extinction is more efficient, and application is more energy-efficient and economical.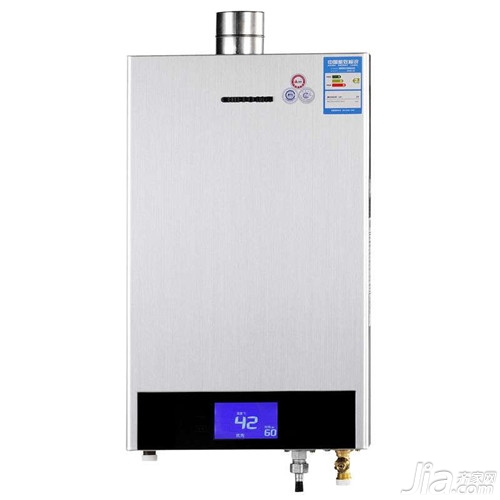 Forward JSQ20-1023 gas water heater slim stylish body simple and elegant; 360 degree stepless conditioning interpretation of energy-saving legend; all-round multiple safe maintenance design, full of international brand strength style: anti-dry maintenance function, when the water heater shows dry phenomenon , Can quickly shut down automatically, effective maintenance of water heaters; Water steady flow installation, to avoid the phenomenon of hot and cold due to changes in water pressure; Super antifreeze installation, maintain your water heater safe winter; Flue outlet special anti-rat network; explosion-proof Burning function; low voltage maintenance function. Flameout maintenance, lack of oxygen maintenance.

Forward JSQ20-A402 gas water heater elegant quality, the use of white spray panel, process intensive, outstanding quality, easy to match with the kitchen environment, compact appearance, elegant and atmospheric. Button conditioning, touch-button thermostat, quietly press, you can easily adjust the bath water temperature, the use of warm and worry-free. High efficiency and energy saving. The first step-by-step extinguishing technology can intelligently adjust the number of extinguishing extinguishers according to the set temperature to complete the wide-band water temperature conditioning and reach a true sense of energy conservation.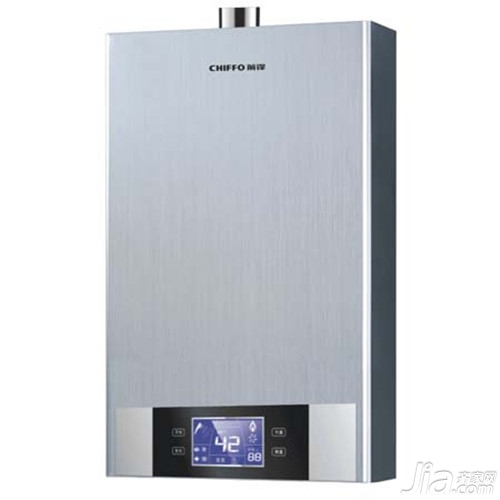 Intelligent constant temperature, using NEC microcomputer processing chip, intelligent speed constant temperature (constant temperature <15s); and ensure that the water temperature and the set temperature does not exceed one degree positive and negative temperature difference. Work status appears, color digital display, real-time display of water temperature and fault code, work state at your fingertips. Temperature memory function, automatic memory bath temperature, ease of use and ease of use. Ultra-low pressure start, using water flow sensor, instead of the traditional water valve, complete the ultra-low pressure start, starting pressure of 0.01MPa, without the need to install booster pump can handle high-level users to worry about. Multiple safe maintenance, leakage maintenance, anti-dry maintenance, over-voltage maintenance, anti-wind maintenance, water leakage protection, over-temperature maintenance, dynamic oxygen deficiency maintenance, flameout maintenance, all-round guarantee your safety.

About the forward gas water heater related information for everyone to introduce here, I hope this article will be helpful to everyone. If you still have something you don't understand, you can leave a message to Xiaobian at the bottom. We will answer your questions as soon as possible.

Water Heater Water Heater Brand Gas Water Heater

GET-S intelligent economy type PCR Machine adopts 6 American Marlow standard semiconductor cooling chips, the maximum temperature changing rate is greater than 4.5 degrees per second, and the number of cycles is greater than 200 thousand times. GET-S Series thermalcycler integrates a variety of advanced technology in one: WINCE operating system, color full touch screen, a variety of replaceable modules, computer online functions, printing functions, large data storage and expansion functions, all of which will improve the function of qualitative PCR products to the extreme, powerful functions will meet the needs of higher requirements of the experiment.




Characteristic
6 long life Peltier modules, which consist of 3 sets of loops, can independently control 3 temperature zones.
the engineering reinforced aluminum module processed by anodizing technology not only keeps fast thermal conductivity but also has enough corrosion resistance.
fast temperature rise and fall rate, the fastest temperature rise and fall rate of 4.5 /s, saving valuable experimental time.
stepless adjustable hot cover can be used to test tubes at different heights, and can be positioned at any angle after opening.
The friendly Windows interface, color touch screen control, high clear TFT display (8 inches, 800 x 600 pixels, 16 color), graphical menu navigation interface, operation is extremely simple;
built in 11 standard program file templates to quickly edit the required files;
the program adopts folder management and can build its own directory.
real-time display program progress and remaining time, support PCR instrument running intermediate programming;
the fast incubation function of one button can meet the experimental needs of denaturation, enzyme digestion / enzyme linked, ELISA and so on.
large data storage and maximum storage of 10 thousand files in the machine.
hot cover temperature and hot cover working mode can be set up to meet different experimental needs.
automatic power failure protection, automatic recovery of power supply after the completion of the unfinished cycle, ensure the whole process of safe operation.
the GLP experiment report records the operation information of each step of the program, and provides accurate data support for the analysis of the experimental results.
User login management, three level permissions, password protection function, to ensure data security;
USB interface, supporting U data / PCR data, or using USB mouse to control PCR tester.
Support U disk and LAN update software;
through the network connection, one PCR can be controlled simultaneously.
optional micro wireless Bluetooth printer, easy and accurate record of the experimental program information.
support the end of the experiment program sending mail reminder function.



Capacity

: 96*0.2ml, 96*0.2ml+ 77*0.5ml, 60*0.5ml, 384well

Temperature range: 0-100C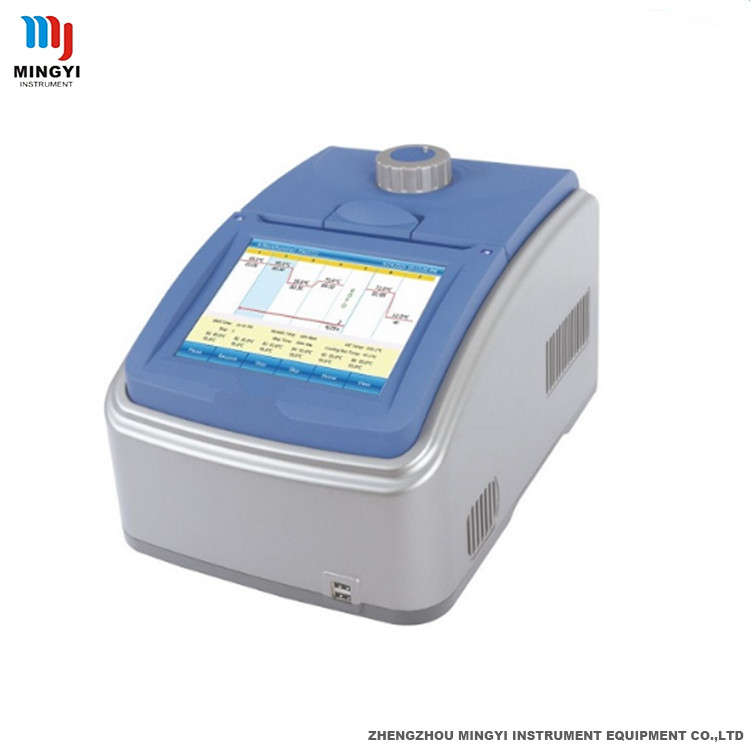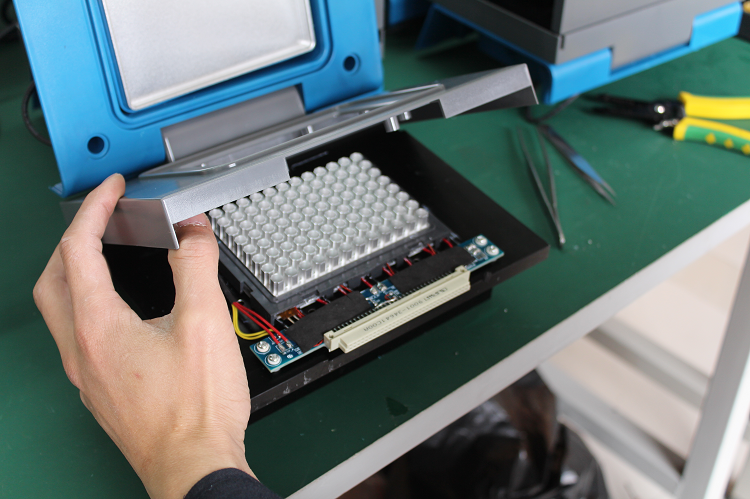 GET-S Series PCR Thermal Cycler

GET-S Series PCR Machine,GET-S Series Thermal Cycler/ PCR Machine,GET-S Series PCR Thermal Cycler Machine,GET-S Series PCR Thermal Cycler,Thermal Cycler PCR

Zhengzhou mingyi instrument equipment co.,ltd , https://www.mingyint.com